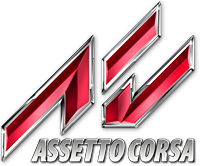 Es gab wegen einiger Probleme eine kleine Verzögerung, aber early 2014 wurde dann doch noch eingehalten. Nun könnt ihr euch per Steam die aktuelle Version von Assetto Corsa ziehen und dann Online spielen. Es gibt auch schon Öffentliche Server, es steht dem Fahrvergnügen also nichts mehr im Wege.
Falls ihr mit dem Layout von Assetto Corsa nicht zurecht kommt und den Weg auf die Server nicht findet gibts hier eine Anleitung in GIF und inm PDF-Format.
Probierts mal aus und gebt eine Rücmeldung über den Netcode, würde mich interessieren wie gut der ist.
Was genau geht und welche Probleme es noch gibt, gibts nach dem Klick.
Working Features:
– Booking system
– Pre-booked clients from server admins
– Password protected server for booking
– Password saving for different servers
– Multi class races
– Race weekend (practice,qualifying,race) with configurable duration and number of laps
– Select penalty system or not.
– Track cycling
– Loop mode
– Maximum client limit, determined by circuit pit boxes
– Clients may re-join at any session if booked.
– Dedicated server available.
– 10 public official servers
Known Issues – Please check and report unknown issues at the official support forums http://www.assettocorsa.net/forum
– Official server are set to 15 clients and we will gradually increase the clients number with testing. Dedicated server is not limited.
– Wheels remain always connected on the ground, even if cars flies, jumps of flips
– Steering wheels angles might appear exaggerated, or inverted
– Extended characters in player names, are not supported yet
– Graphical active aero animations do not work on multiplayer clients yet
– Opponents skidmarks are not visible yet
– Opponents windshield are not visible in player's mirrors yet
– Opponents suspension movements are vertical, wheels might compenetrate cars body on some occasions
– "Multiplayer options" option from the menu does not work yet (containing voting for skip session, restart servers, kick users, chats etc)
– Switching between sessions dirt on the car doesn't disappear
– race session ends some seconds after the leader finishes the race 
The new version of the Assetto Corsa Early Access Beta can now be downloaded off Steam.